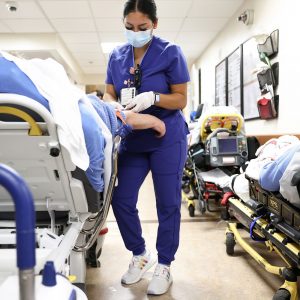 I know that no one really wants to think about or hear about COVID anymore. People are tired of it, "over it," and "done with it." But unfortunately, it's not done with us; it's not over, and it may not be for quite some time, as it keeps mutating into new variants. As of the end of February 2023, there are still more than 22,000 people hospitalized with COVID across the U.S.  For the years 2020-2022 (the last three years in a row), COVID-19 has remained the 3rd most common cause of death in the United States (behind only cancer and heart disease), and among adults and children, it's the top cause of death among all infectious and respiratory diseases (beating out flu and pneumonia). "In January and February of 2022, COVID-19 was the number 1 cause of death for people ages 45-84." (Source) In total, according to data from the World Health Organization, as of February 19, 2023, "more than 757 million confirmed cases of COVID and over 6.8 million COVID deaths have been reported globally." And in the United States, COVID has killed more than 1.1 million people (with confirmed cases of COVID) so far (as of February 2023), but that's most likely a significant undercount, given the much higher number of "excess deaths."  Meanwhile, recent research has found that at least 10% of serious COVID infections result in Long COVID, which is an often debilitating illness. More than 65 million people worldwide are already suffering from Long COVID. Many people with Long COVID are not able to work or function well in daily life.
Many of us who work on climate issues have noticed (with sadness and dismay) the similarities in the way that many people have been dealing (or not dealing) with the COVID pandemic and with the climate crisis. Too many people are living in denial: choosing to deny, ignore, dismiss or downplay real problems. Denial is a very powerful coping mechanism, often used when we feel overwhelmed or powerless or fearful about something, but denial often goes too far, way beyond where it serves us well, and then it can become dangerous and even deadly. Many people want so badly to not be seen as over-reacting to something that they over-correct and under-react. It seems to be the human condition to often be scared of all the wrong (low-risk) things, while dismissing and ignoring the real risks that we should be concerned about and doing something about.
And then some people are behaving as if they have a death wish or have lost any type of basic survival instinct, or even any desire to protect others (whether they be family, friends, co-workers, the many immunocompromised folks they may come across, let alone their community or humanity at large) from sickness or potential death or disability. It's been sobering to see how non-chalant, callous, and even sociopathic some people have been about this. This is another way in which some people's response to COVID has been similar to people's response to the climate crisis. A disheartening number of people have shown that they are unwilling to accept or tolerate the most minor inconveniences or sacrifices (e.g., wearing a mask in certain situations; or, say, flying less frequently or choosing a more fuel-efficient, less polluting vehicle) for the collective good (even when doing so is also for their own good/safety/health or that of their own family members). This extreme level of individualism is particularly acute in the United States, where too many people seem to be stuck in an adolescent "I can and will do whatever I want" (regardless of the consequences or the harm to others) frame of mind, and some have thrown toddler-grade tantrums in response to things like mask mandates or even to polite requests or suggestions.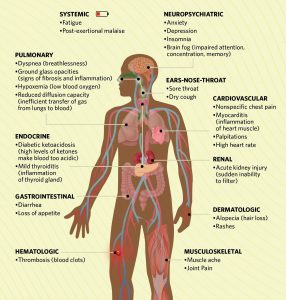 There are many important and substantiated facts about COVID that many people seem to be unaware of, in part because many public health leaders and public officials have not been sharing the facts or data or basing policies on them, having seemingly given up on trying to stop or slow the pandemic, possibly because of all the public backlash and hostility they've received during past attempts to institute protections (and necessary mitigations/restrictions) to save lives. There are, however, some medical experts and scientists (e.g., epidemiologists, virologists, immunologists, doctors, nurses) who continue to try to get people to understand the reality of the situation and what people (and government and other institutions) should be doing to get it under control. As with the climate crisis, individual and voluntary actions and state-specific protections (though they are helpful and important) are simply not enough to solve or put an end to this collective, global problem.
The following are 10 important facts people should (but often don't) know about COVID. This isn't alarmism or fear-mongering. Please see the list of articles further down for more details and research data. If more people were aware of what the current reality is, they might be more likely to take all viable and appropriate precautions:
It appears that many people's immune systems have been impaired/damaged/dysregulated by having had COVID in the past, and experts are finding that that COVID-caused immunodeficiency (or immunosuppression) is most likely why so many people (including and especially kids and infants) have gotten so ill from the flu, RSV, and any other bug that comes along. (It's not actually due to so-called "immunity debt," which is a questionable concept.). It's also why so many people have been getting bacterial infections that can send them to the hospital (e.g., pneumonia, Strep / scarlet fever, Staph, UTIs, etc.): because their bodies' immune systems can't fight them off on their own. Untreated (or untreatable) bacterial infections can lead to sepsis and death.
People can readily get reinfected with COVID (i.e., having had COVID does not mean you are immune from getting it again, especially as the virus keeps mutating), and sometimes people fare worse on later infections than the first.
COVID can cause significant mental, neurological, and blood clotting/circulatory problems (e.g. strokes, embolisms, heart attacks) and long-term/permanent organ damage (e.g., heart, lungs, liver, brain, kidneys, intestines, etc.) and even diabetes—months or years after the initial infection, and even in people who had a relatively mild or even asymptomatic case of COVID in its acute phase. These risks go up with each additional COVID infection.
COVID infections seem to be able to reactivate dormant viruses or infections that someone has had in the past (e.g., mono: EBV; lyme, etc.).
Many hospitals and other workplaces are understaffed because their staff has had so much COVID-related illness, and a lot of people with Long COVID haven't been able to go back to work due to their ongoing, debilitating symptoms.
Getting the latest COVID booster (vaccine) drastically reduces one's chances of being hospitalized or dying of COVID. It also seems to reduce the chances of getting Long COVID.
Airplane air filtration is rarely as good as the airlines claim. When people bring air quality monitors on-board, they typically find very poor levels of ventilation, not just when the plane is on the ground but also when it's in flight. Bear in mind that on almost any flight you're on, at least one person is likely to have COVID (or some other infectious disease). It is very important to wear a good mask throughout any flight you're on (and to not remove the mask). I've known numerous people who have gotten COVID (and other viruses) after being on flights.
If you're traveling/flying (or going to be with a group of people indoors), the experts advise that you: isolate for at least a few days before and after the flights/visits/events; take a COVID test (ideally a PCR test) before and a few days after the trip/visit (for several days in a row, as tests—especially at-home rapid tests—sometimes won't show a Positive result until someone has had the virus for 5 or more days); always wear an N95 (or KN95 or KF94) mask when indoors with a group (or when you're with a medically vulnerable or immunocompromised person) or on public transportation or when you experience any potential symptoms; and ventilate indoor air as much as possible (opening windows or using HEPA filtration or Corsi-Rosenthal Box filters are the best strategies).
If you have had (or currently have or think you might have) COVID, you may want to ask your doctor about whether it's safe for you to take some type of anti-coagulant (blood thinner) for a while, to prevent blood clots. One natural blood-thinning supplement (which may be safer and more effective than baby aspirin) is called Nattokinase; it can be found at some natural foods and supplement stores or websites. In addition, to help lower your chances of getting COVID or of preventing a COVID infection from becoming serious, do what you can to keep your immune system functioning properly, e.g., get plenty of sleep; eat nutritious organic (and unprocessed) foods; and make sure you're getting enough Vitamin D3, other necessary vitamins (like C, the B vitamins, etc.). You could also look into taking supplements like Quercetin (which also has blood-thinning properties) and/or medicinal mushrooms (see Dr. Weil's info; and Host Defense products). (Note: I am not a medical professional, and you should consult with a medical professional before taking anything.)
If you don't know whether you've had the COVID virus in the past, you can get the "nucleocapsid antibody" test for COVID (offered by various labs, including LabCorp). This is the only type of COVID antibody test that can identify past exposure to the virus itself and not also pick up on antibodies developed from vaccination. This might be helpful information to have in case you end up getting any Long COVID symptoms (or sudden changes in your cardiovascular health or other brain or organ issues) down the road. Research is ongoing to identify the best treatments for various Long COVID symptoms and conditions.
Please take a look at some of these useful, recent articles and research findings about COVID and Long COVID:
I also recommend reading the articles on COVID and Long COVID that were written by Ed Yong between 2020-2022.
Some of the top doctors, scientists, and other experts I recommend following re. COVID and public health are: Eric Topol, Wes Ely, Claire Taylor, Elizabeth Jacobs, Peter Hotez, Ziyad Al-Aly, Erin C. Sanders, Taison Bell, Celine Gounder, Theresa Chapple, Julia Raifman, Angela Rasmussen, Lucky Tran, Megan Ranney, Shikha Jain, Lisa Iannatone, Dr. Natalia, Nurse Kelsey; Hannah Davis, Morgan Stephens, and others included here.
Some groups and resources you might want to know about and follow online are: Voices of COVID, Faces of COVID, Survivor Corps, COVID Survivors for Change, Patient-Led Research Collaborative for Long COVID, Putrino Lab, Long Covid Research Initiative, The Long COVID Survival Guide, Long COVID Advocacy, Long COVID Justice, Long Covid Kids, Project N95, Mask Together America, Marked By COVID, and others included here.
Other useful resources:
Related post:
COVID Response and Relief: Ways to help or to get help or information

February 28, 2023
[Click here to comment]