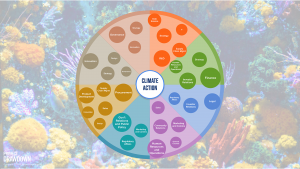 The mission of Project Drawdown is "to help the world stop climate change—as quickly, safely, and equitably as possible. We do this by advancing effective, science-based climate solutions and strategies; fostering bold, new climate leadership; and promoting new climate narratives and new voices."
Project Drawdown's researchers have identified more than 90 climate solutions (specific strategies), and they have estimated how much each one of those strategies could reduce heat-trapping (greenhouse gas) emissions globally, to determine which ones can make the biggest impact in mitigating climate change. They note that their listing is "extensive but not exhaustive" and their research is ongoing and will continue to be updated.
On their Table of Solutions, you can sort the solutions' climate impacts based on two different scenarios—or timelines—of emissions reduction efforts: Scenario 1 is in line with a 2˚C temperature rise by 2100, while Scenario 2 is in line with a 1.5˚C temperature rise at century's end (a better scenario, to be sure, but one that is becoming less attainable every day that our societies fail to act with the needed urgency).
I looked at the solutions for both scenarios, and I found that both scenarios include the same group of solutions within their Top 15—just in a different order. (Beyond the first 15, the solutions start to differ somewhat across the two scenarios.) Here I've listed the 15 highest-impact solutions that Project Drawdown identified for Scenario 1, as of June 2023. Click on the links to learn about each one:
Top 15 Climate Solutions
Start by selecting 2-4 of the solutions above, and think about (or research/Google) at least one way that you can participate in or contribute to each of those solutions. Then write down and commit to those actions and do your best to make them happen in the near term. (Then maybe you can add some more goals and solutions to your list, and/or help others achieve them.) While many/most of these climate solutions require action by government and industry in order to be fully and readily implemented, there are almost always some things that we can do as individuals and as communities to push them forward and to push government and industry in the right direction. (Note: I plan to publish future posts on specific actions that can help with Solutions 1, 2, and 3.  UPDATE: Here's our post on Reducing Food Waste.) Government and corporate policies, funding and investments, and climate programs and efforts should aim to prioritize the most effective climate solutions and strategies, as well as all strategies that can be implemented immediately or quickly (and/or easily or most affordably), as time is of the essence.
To see the other 75+ solutions identified by Project Drawdown, visit and peruse their Solutions Library.
Project Drawdown organizes their solutions by sectors, as follows:
Sources: Food, Agriculture, and Land Use; Electricity; Other Energy; Buildings; Industry; Transportation
Sinks: Land Sinks; Coastal and Ocean Sinks; Engineered Sinks
Society: Health and Education
Interestingly, of the Top 15 solutions listed above, almost half of them (7) count as Land Sinks, while 3 of them fall within the area of Food, Agriculture, and Land Use; 3 are within the Buildings sector; 3 are within the Electricity sector; 2 are within Industry; 1 is related to Health and Education; and 1 is related to Other Energy (methane gas).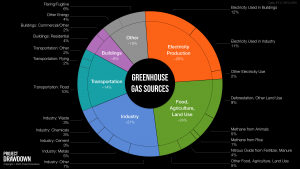 Also check out the new Drawdown Roadmap, which is a series of videos (and graphics) that demystify climate change's specific causes and solutions, and show "how to strategically mobilize solutions across sectors, time, and place, engage the power of co-benefits, and recognize and remove obstacles." These videos provide useful, one-of-a-kind summaries that can serve as a great resource for businesses, investors, philanthropists, government agencies, and non-profit organizations. I think they could also serve as a good learning tool for high school or college students. For other short, educational videos from Project Drawdown, see their Climate Solutions 101 series, which includes interviews with a variety of climate experts.
NOTE: We featured an earlier iteration of Project Drawdown's research findings in our 2020 blog post "Sweat the Big Stuff: The Most Effective Climate Strategies," which also featured other scientific findings on the highest-impact climate solutions, including high-impact individual choices.
Related posts:
Climate and Energy-Related Solutions, Tips, and Resources
How to Reduce Food Waste (+ Reduce Emissions and Save Money)

June 27, 2023
2 comments