BOOKS
Ten recently published books that you might want to check out, read, and/or give to others: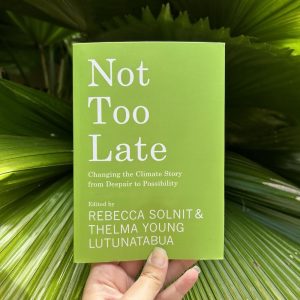 Not Too Late: Changing the Climate Story from Despair to Possibility, short essays by a bunch of great climate experts and authors, edited by Rebecca Solnit and Thelma Young Lutunatabua
No Miracles Needed: How Today's Technology Can Save Our Climate and Clean Our Air, by Mark Z. Jacobson
Our Fragile Moment: How Lessons from Earth's Past Can Help Us Survive the Climate Crisis, by Michael Mann
The Heat Will Kill You First: Life and Death on a Scorched Planet, by Jeff Goodell
The Regenerative Materials Movement: Dispatches from Practitioners, Researchers, and Advocates, edited by the International Living Future Institute
Soil: The Story of a Black Mother's Garden, by Camille T. Dungy
Alfie and Me: What Owls Know, What Humans Believe, by Carl Safina
Democracy Awakening: Notes on the State of America, by Heather Cox Richardson
Saving Democracy: A User's Manual for Every American, by David Pepper
Fiction:  The Lost Cause, by Cory Doctorow
Also check out the books published by New Society Publishers and Chelsea Green Publishing and Island Press, for a wide selection of titles on sustainability topics.

FILMS
Four new documentary films that you might want to watch and/or mention to others (note: some of these might not be widely distributed via theaters or streaming until 2024):
The Last of the Nightingales  (32 min.; featuring Bernie and Katherine Krause; view trailer here)
Radioactive: The Women of Three Mile Island
The Need to Grow: Save the Soil, Save the World
I continue to add books and films to this list as the year goes on and I learn about new ones. Do you have favorite books or authors or films to recommend? Please mention them in the Comments.
Related posts:

August 24, 2023
2 comments