Ever-worsening climate change (which is causing more extreme and prolonged heat, droughts, and thus vast areas of extremely dry vegetation: e.g., trees, shrubs, and grass) is adversely affecting the world's fire ecology. There have been increasingly widespread fires in most western (and many southern) states in the U.S.  and across almost every region of the world, including the Arctic (e.g., Siberia and Alaska), Canada, Australia, the Amazon/Brazil (where fires are often intentionally started to illegally clear rainforest land for cattle grazing), and in Africa and Europe. Wildfires have always happened to some degree, but the size and intensity, the times of year, and the locations of many of today's wildfires are unprecedented. Nations, states, municipalities, communities, policymakers, neighborhood groups, builders and designers, land owners, building owners and home owners, and individuals all have a part to play in helping reduce wildfire risks, preventing wildfires from spreading into built environments, and creating more fire-adapted and resilient communities and structures.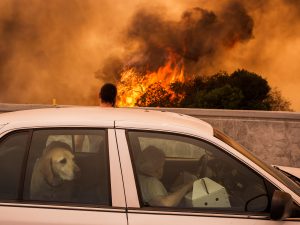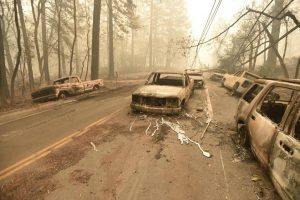 As a resident of the western United States, I have been negatively affected by the worsening wildfires (more frequent and much bigger, hotter fires) and the ever-longer fire seasons that we've been experiencing these past 5+ years. The regular and explosive fires that can now happen almost any month of the year, mass evacuations, red flag warnings, hazardous and acrid-smelling smoke in the air (tiny particulates that get deep into your lungs and can make it feel like you're sucking on a filthy truck exhaust pipe any time you're outside) sometimes lingering for weeks at a time, apocalyptic burnt-orange/brown skies that block out the sun, sooty ash (including tiny pieces of people's books/homes/lives) covering every outdoor surface (requiring the use of windshield wipers to clear car windshields), extended power outages, and major disruptions to work and life in general have taken a toll on millions of us. And many of us know people who have lost their homes and their sense of security—and who became climate refugees, facing displacement and years of insurance headaches and PTSD and nightmares—because of these fires. I have some good friends who went through this trauma in 2017; they had to flee a giant wildfire at night and barely got out alive. I helped sift through the rubble and toxic ashes of their destroyed home and work studio; it looked like a large bomb had been dropped on their property, which had formerly been an oak woodland paradise and a sort of refuge. That was an intense and emotionally jarring experience, and it left a mark on me. Last year, after many years of living in a beautiful and beloved but increasingly fiery region (with dwindling water resources), my husband and I moved to a wetter, more affordable area that has less fire risk (less risk for now, though I know conditions will continue to change and no place is safe from climate-related calamities).
When doing this research on wildfire risk reduction resources, I was heartened to discover that there are many experts (e.g., fire ecologists, pyrogeographers, and all types of fire science aficionados and fire safety officials) doing good work, and some smart and positive efforts are underway to lessen the wildfire risks going forward. For example, there is a growing understanding among land managers, fire agencies, policymakers, and state and county staff of the need for some prescribed fires (AKA controlled/managed burns or "good fire"): a once-traditional, indigenous practice to reduce dry and dead vegetation (fuels) and to safely mimic and manage what would occur naturally if most wildfires hadn't been suppressed over the last century. I've been glad to observe that, in some areas at least, prescribed fires have been happening more frequently, despite the permitting hurdles. I've also read about prescribed burns (as well as greenbelt buffers) that did, in fact, help protect some neighborhoods from recent fires.
It's easy to feel overwhelmed and helpless in the face of the increasing number of catastrophic wildfires fueled by dangerous climate conditions. But we are not helpless. There are numerous actions we can take as a society, as communities, and as individuals/households to prevent or minimize further destruction.
Community-scale wildfire mitigation efforts include policies and practices regarding: state, regional, local, and neighborhood-level land use/management (of public and privately owned lands), e.g., forest management, prescribed fires/controlled burns, greenbelt buffers / Urban Growth Boundaries (for the wildland-urban interface), zoning that restricts building (or re-building) in fire-prone (or flood-prone or other disaster-prone) areas, and the development of fire-resilient infrastructure.
Property/Building-scale policies and practices (for land owners, building/home owners, and residents) focus on sites and structures: e.g., defensible space around residential and commercial structures, landscaping / vegetation management; home/building hardening and protection (design, building, remodeling, retrofitting); and Indoor Air Quality / air ventilation and filtering, for smoke protection and remediation.
The following websites and organizations can help you identify and implement a number of concrete actions that could protect your community or your own family and residence from wildfires:
I. General / Community-Scale Resources
Click here to see brief descriptions of these resources, or to see some more California-specific resources (in an annotated listing I developed for the U.S. Green Building Council's Redwood Empire Chapter last year).
Also visit our Wildfire and Fire Ecology list on Twitter, which includes many of the above resources and others.
Articles: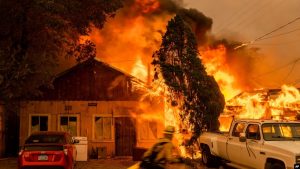 II. Property & Building-Scale (Site & Structures) Resources
________
Click here to see brief descriptions of these resources, or to see some more California-specific resources (in an annotated listing I developed for the U.S. Green Building Council's Redwood Empire Chapter last year). Also visit our Wildfire and Fire Ecology list on Twitter, which includes many of the above resources and others.
Doing everything we can to prevent or manage the spread of wildfires and to protect people, animals, and structures from wildfires and from wildfire smoke pollution (for the long term) also requires that we do everything we can NOW to help mitigate and slow climate change, as our fast-changing climate is the primary driver (the accelerant) of these increasingly catastrophic wildfires. See the links below for some other relevant recommendations.
Related posts:

April 27, 2022
1 comment