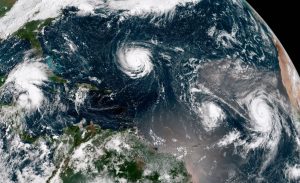 The past 10 years or so, it's felt like new, large-scale crises emerge almost every day. It's hard to focus on or prioritize any one issue, as so many issues are of dire importance.
I wish we could live in a world without any traumatic crises or catastrophes. But given that that isn't a realistic option: I wish we could focus almost all of our attention and efforts on climate action and environmental protection right now, since climate breakdown (and biodiversity loss) is an urgent and worsening crisis (with new climate-related disasters occurring around the world every week) and it requires a bold and immediate response. But this crisis keeps getting overshadowed and crowded out by other real crises and interconnected, existential threats: from the ongoing and ever-morphing COVID-19 pandemic, to the ongoing struggle between democracy/human rights vs. authoritarianism, extremism, and political violence (abroad and at home), to increasing attacks on women's rights, civil rights, and voting rights in the United States, to war and violence—and all of its attendant issues, including senseless death, destruction, brutality, trauma, and suffering; war crimes, humanitarian crises, mass migration of refugees, nuclear security/safety risks (from threats of nuclear strikes to potentially catastrophic damage to active and inactive nuclear reactors/radioactive waste), environmental contamination (crimes against humanity and nature) and animal suffering, oil and gas supply/dependence, food supply risks, and the resulting economic effects. And this, of course, is only a partial list of significant current issues, the vast majority of which are human-caused.
None of us gets to choose which era we're born into or what types of historical events and cataclysms we have to live through. But we should all try to rise to the moment we're in and push for shifts in a more positive direction.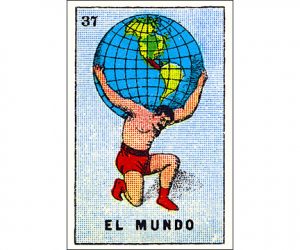 We all have so many personal responsibilities and daily struggles and stressors of our own that it can be very hard to take in what's going on in other people's lives and in other parts of the world. Many people turn away because they are already overwhelmed and are in survival mode, and simply can't cope with or absorb any more sad or scary news or more problems that seem intractable; we all go through certain periods of our lives, or parts of our days, when our own problems (or our families') are all (or more than) we can handle. Taking on the weight of the world can be crushing. Almost none of us are unscathed or truly OK these days, as most of us are facing numerous challenges at societal and individual levels. It's important to "put your own oxygen mask on first, before helping others with theirs" because you can't help others unless you are alive, relatively sane and healthy, and able to function. But whenever we do have the capacity, we should strive to be compassionate, stay aware of what is going on outside of our immediate lives and circumstances, and try to make a difference whenever and wherever we can, however small our efforts may seem, on whatever specific issue(s) we feel we can make an impact on. Helping others (and humanity at large) also gives our own lives a greater sense of meaning and purpose.
"I am only one, but I am one. I cannot do everything, but I can do something. And I will not let what I cannot do interfere with what I can do." – Edward Everett Hale
To get updates, information, and expert insights on some of the important issues of our time, you may want to visit (and follow) a couple of my curated lists of Twitter accounts. Note: I created a few of these lists recently, and I regularly add new accounts to each list:
And these are some of The Green Spotlight's blog posts that are related to current issues:
Posts Related to Democracy and Social Change 
Climate and Energy-Related Solutions, Tips, and Resources
COVID and Long COVID: Important Facts and New Findings [NEW]

Tips for Emergency Preparedness and Disaster Response

Wildfire Prevention and Risk Reduction
Resilience: Disaster-Resistant and Adaptive Design and Planning
Animal Protection, Rescue, and Advocacy
Great Quotations on Action, Activism, and Change
There are countless organizations doing important and noble work to address many of the issues mentioned above. It's not easy for me to narrow down a list of only a few to highlight. But I will try. The following are just a few groups that address big, cross-cutting issues; I will be adding more to this list soon. Because so many of humanity's issues and crises intersect and spring from the same or similar causes or contributors, it's helpful to use systems thinking to see the big picture, connect the dots, and synthesize messages and actions; doing so can enable us to address multiple problems at once. (While the following are national and international organizations that have a broad scope, more local/regional, decentralized, grassroots groups and efforts are also extremely important and necessary, and big groups should partner up with small and local groups. There are just way too many grassroots groups in every area of the world to attempt to list them here.)
As for Russia's war on Ukraine (and the many terrible consequences of it), here are a few things you can do to help or to show solidarity with Ukraine (as well as greater Europe, other countries facing conflicts, and our entire, interconnected world):
Support Global Giving's Ukraine Crisis Relief Fund, other humanitarian aid and disaster response groups, refugee assistance groups, the Clean Futures Fund, or other organizations in the region.
Reduce your use of oil and gas, e.g. by flying less (or not at all), driving less, getting an electric or non-gas-guzzling car (or electric bicycle), supporting renewable energy (via your utility, city, and state), using solar power, switching from gas to electric furnaces and electric/induction stoves (and electric leaf blowers and mowers), getting a heat pump, not heating or cooling your home as much, etc.
Lobby/educate against the use (and development) of nuclear power and nuclear weapons, locally, nationally, and globally. Support: the immediate decommissioning of existing nuclear plants and neutralization of nuclear materials, no-first-use nuke policies, nuclear disarmament and arms reduction policies, uranium mining bans, etc.
Reduce your consumption of wheat/grain-based products, and never waste food. (Ukraine is an agricultural "bread basket" of the world, and its ability to grow grains and other foods will be severely impacted by the war, affecting the food supply and food prices everywhere.) If you have a little space and a little time, grow some food plants on your land/yard/windowsills—ideally enough that you can share some with others. Support local organic farmers and small farms, as well food banks/pantries, gleaning groups, and food security and hunger organizations, locally and globally.
Support and amplify pro-democracy, anti-authoritarian groups and efforts, as well as pro-peace, anti-war groups and efforts.
Plant some sunflowers this spring or summer.

March 31, 2022
[Click here to comment]