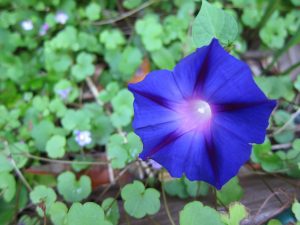 These are "things" that I care deeply about and that I believe truly matter and are worth standing up for and supporting (in addition to one's own circles of friends, family, and community):
– a life-sustaining climate
– clean (unpolluted) air, water, soil, and food
– democracy
– equality
– liberty, freedom, self-determination, bodily autonomy, choice
– truth, facts
– justice
– human rights, civil rights, voting rights, women's rights, reproductive rights
– animal rights
– wild lands, natural habitat, biodiversity, wildlife, endangered species
– vulnerable, ill, afflicted, homeless, or impoverished people
– empathy, compassion (without borders)
– reducing unnecessary suffering
– non-violence; non-violent protest and dissent; de-escalation of conflict
– basic decency and respect: the Golden Rule ("Do unto others…")
– ethics, integrity
– dignity, self-restraint
– affordable, universal healthcare (including mental healthcare)
– a free/independent press; investigative journalism; an informed citizenry
– science; and science-based, evidence-based policy
– education, critical thinking, reason
– the Common Good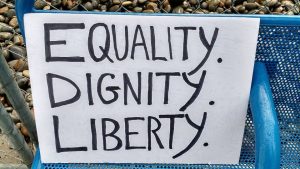 I recommend giving some real thought to your own values and priorities (and desired legacy), and sharing your own mini-manifesto or values/mission statement with others.
As Elie Wiesel so wisely said:
"I swore never to be silent whenever and wherever human beings endure suffering…  We must take sides. Neutrality helps the oppressor, never the victim. Silence encourages the tormentor, never the tormented."
It's important for people to show and tell other people what they stand for and will stand up for (and not only the things we stand against).
That said, the opposite of many of the things listed above are things that I stand against, e.g.,:
pollution; the production, use, and dumping of toxins and toxic waste; fossil fuel extraction and burning; industry (private profit-driven) influence or control over policies and laws; authoritarianism, fascism, white supremacy/nationalism; hatred, dehumanization, discrimination, racism, sexism, misogyny, patriarchy, anti-semitism, Islamophobia; unequal pay, extreme income inequality; scapegoating (e.g., of immigrants, people of color, and poor people); violence (including domestic violence, child abuse, violence against women), war-mongering, police brutality; mass incarceration, discriminatory judicial decisions and sentencing, victim blaming; corruption, greed, predatory and exploitative capitalism, money hoarding, wealth redistribution from the poor and middle class to the wealthy; selfish individualism and entitlement at the expense of others (e.g., neighbors, humanity, future generations, other species, etc.); gerrymandering, voter suppression, election hacking and fraud; propaganda, disinformation, misinformation, "information warfare," smears, lies, anti-science sentiment and policy, disproven conspiracy theories, paranoia, fear-mongering, denial of facts, willful ignorance, trolls, tabloids, sensationalist media; portraying/covering politics and elections as a game, sport, horse race, or entertainment; harassment, bullying, humiliation, ridicule, personal attacks; animal cruelty, exploitation, poaching, poisoning, habitat destruction, over-hunting, human supremacy.
-ML

May 20, 2019
[Click here to comment]