These are just a few of the many films—with environmental themes—that have come out in the last few years (between 2016 and 2021). The listing also includes a few TV programs. These films and shows (mostly documentaries) touch on all sorts of topics, e.g., food, soil, agriculture/farming, indigenous people, climate change, social and environmental movements, animals, trees and forests, energy, and inspiring leaders and scientists. We'll continue to add more films to this listing throughout 2021, as we learn of others. We have also posted listings of earlier films (from before 2016); scroll to the bottom of this post to find links to those.
Click on each of the links below (or go to IMDB.com) to see previews/trailers, reviews, and descriptions of each film. Also, educators should note that many of these films are available for free to teachers, and their websites often have educational resources for teachers/students to use.
Dark Waters   (feature movie, based on a true story re. PFAS and DuPont)
Percy vs Goliath (feature movie, based on a true story re. a farmer and Monsanto)
The Biggest Little Farm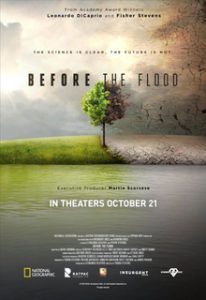 Climate Solutions 101 (Project Drawdown's 6-part video series)
Being the Change: A New Kind of Climate Documentary
Hard Nox (from the Dirty Money TV series)
The Beekeeper (short film)
Animals:
Love and Bananas: An Elephant Story
Artifishal: The Fight to Save Wild Salmon
Trees and Plants:
The Call of the Forest: The Forgotten Wisdom of Trees
The Secret World of Trees (TV series)
Inspiring People:
End of the Line: The Women of Standing Rock
David Attenborough: A Life on Our Planet
For other media on inspiring environmental leaders, check out the short videos about Goldman Prize winners.
Also check out Ecoflix [NEW] and WaterBear: new streaming platforms dedicated to environmental films and media. And take a look at The Years Project videos and shows, as well as PBS shows such as Our Planet, Nature, Earth: A New Wild, and NOVA, and BBC shows such as A Perfect Planet and Planet Earth.
Are there other relevant, recent (or forthcoming) films or TV programs that you've seen and would recommend to others?  If so, please mention those in the Comments section below.
Green Film Festivals
These are a few of the annual film fests that I'm aware of; this is not an exhaustive list. Please let everyone know about other green film festivals by contributing a Comment. Many of the festivals' websites feature video clips and a some even stream entire films (short and full-length films), and they list many additional, new, independent films, beyond what I've listed above, including some brand new ones that haven't been screened widely yet.
See the Green Film Network to find film festivals in many countries.
Our previous film posts: