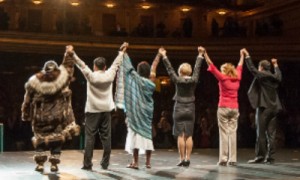 The Goldman Environmental Prize is the world's largest and most prestigious annual award for grassroots environmentalists.
"The Prize recognizes individuals for sustained and significant efforts to protect and enhance the natural environment, often at great personal risk. Each winner receives an award of $150,000, the largest award in the world for grassroots environmentalists. The Goldman Prize views 'grassroots' leaders as those involved in local efforts, where positive change is created through community or citizen participation in the issues that affect them. Through recognizing these individual leaders, the Prize seeks to inspire other ordinary people to take extraordinary actions to protect the natural world."
The Goldman Prize ceremony (which is held in San Francisco) is one of the best events I attend every year. The recipients are models of courage, and their stories are powerful and inspiring. This year's six prize winners (one from each of the six inhabited continental regions) are:
Click on each recipient's name to read about—or watch a brief video about—their remarkable efforts and achievements.
Here's the three-minute video about Caroline Cannon, who has been "bringing the voice and perspective of her Inupiat community in Point Hope to the battle to keep Arctic waters safe from offshore oil and gas drilling." Shell and other oil companies currently have plans to drill in the Arctic.
Last year's recipient from the U.S. was Hilton Kelley, who has been fighting for environmental justice for communities along the Gulf Coast of Texas.