The Goldman Environmental Prize is the world's largest and most prestigious annual award for grassroots environmentalists. Many people refer to it as the "green Nobel." Goldman Prize winners are models of courage, and their stories are powerful and truly inspiring. "The Prize recognizes individuals for sustained and significant efforts to protect and enhance the natural environment, often at great personal risk. Each winner receives a financial award. The Goldman Prize views 'grassroots' leaders as those involved in local efforts, where positive change is created through community or citizen participation in the issues that affect them. Through recognizing these individual leaders, the Prize seeks to inspire other ordinary people to take extraordinary actions to protect the natural world." Over the 31 years that the Prize has been awarded, there have now been 200 recipients of the prize.
This year's prize recipients (one from each of the six inhabited continental regions of the world) are: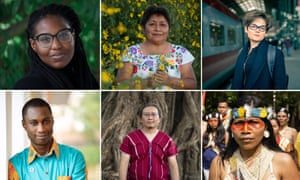 Leydy Pech—Mexico: Leydy Pech, an indigenous Mayan beekeeper, led a coalition that successfully halted Monsanto's planting of genetically modified soybeans in southern Mexico. The Mexican Supreme Court ruled that the government had violated the Mayans' constitutional rights and suspended the planting of genetically modified soybeans. Because of the persistence of Pech and her coalition, in September 2017, Mexico's Food and Agricultural Service revoked Monsanto's permit to grow genetically modified soybeans in seven states. 
Kristal Ambrose—The Bahamas: Drawing on the power of youth activism, Kristal Ambrose convinced the government of The Bahamas to ban single-use plastic bags, plastic cutlery, straws, and Styrofoam containers and cups, to reduce plastic waste in and around the ocean and the Bahamas islands. Announced in April 2018, the nationwide ban went into effect in January 2020. (Organization: Bahamas Plastics Movement)
Nemonte Nenquimo—Ecuador: Nemonte Nenquimo led an indigenous campaign and legal action that resulted in a court ruling protecting 500,000 acres of Amazonian rainforest and Waorani territory from oil extraction. Nenquimo's leadership and the lawsuit set a legal precedent for indigenous rights in Ecuador, and other tribes are following in her footsteps to protect additional tracts of rainforest from oil extraction. (Relevant organizations: Amazon Frontlines, Alianza Ceibo, Amazon Watch)
Chibeze Ezekiel—Ghana: As a direct result of Chibeze Ezekiel's four-year grassroots campaign, the Ghanaian Minister of Environment canceled the construction of a 700-megawatt (MW) coal power plant and adjoining shipping port to import coal. The coal power plant would have been Ghana's first. Ezekiel's activism stopped the coal industry from entering Ghana and steered the nation's energy future away from coal and towards solar and renewables. (Relevant organizations: Ghana Reducing Our Carbon (G-ROC) 350, Strategic Youth Network for Development, 350.org)
Paul Sein Twa—Myanmar: Seeking to preserve both the environment and Karen culture in Myanmar, in December 2018 Paul Sein Twa led his people in establishing a 1.35-million-acre peace park—a unique and collaborative community-based approach to conservation—in the Salween River basin. The Salween River basin is a major biodiversity zone and home to the indigenous Karen people, who have long sought self-determination and cultural survival. The new park represents a major victory for peace and conservation in Myanmar. (Relevant organizations: KESAN (Karen Environmental and Social Action Network), ICCA Consortium)
Lucie Pinson—France: In 2017, Lucie Pinson's activism successfully pressured France's three largest banks to eliminate financing for new coal projects and coal companies. She then compelled French insurance companies to follow suit: between 2017 and 2019, mega insurers AXA and SCOR announced plans to end insurance coverage for coal projects. (Relevant organizations: Reclaim Finance, Coal Policy Tool, BankTrack)
Click on each recipient's name to read a longer profile—and watch a brief video—about their remarkable efforts and achievements.
Here's the video about Leydy Pech of Mexico:

Posts on Goldman Prize winners from previous years: