These are a few recently published books that you may want to consider reading and/or giving to someone as a gift: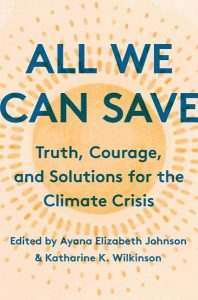 All We Can Save: Truth, Courage, and Solutions for the Climate Crisis (essays from more than 40 women who are at the forefront of the climate movement), edited by Ayana Elizabeth Johnson and Katherine K. Wilkinson
The New Climate War: The Fight to Take Back Our Planet, by Michael E. Mann
Becoming Wild: How Animal Cultures Raise Families, Create Beauty, and Achieve Peace, by Carl Safina
World of Wonders: In Praise of Fireflies, Whale Sharks, and Other Astonishments, by Aimee Nezhukumatathil
And here are a few that aren't primarily focused on environmental topics, but they are also important books for our time:
What Unites Us, by Dan Rather and Elliot Kirschner  [also coming out as a graphic novel]
How to Fly (In Ten Thousand Easy Lessons) (poems), by Barbara Kingsolver
Caste: The Origins of Our Discontents, by Isabel Wilkerson
Wintering: The Power of Rest and Retreat in Difficult Times, by Katherine May
Also check out the books published by Chelsea Green Publishing and New Society Publishers and Island Press, for a wide selection of titles on green/sustainability topics.
Please buy books from independent bookstores to keep them in business (you can find the ones closest to you on IndieBound.org)—or Powell's Books, Barnes & Noble, or Better World Books—rather than from Amazon. There are numerous good reasons not to buy anything (but especially books) from Amazon. (And remember, when you pay the lowest possible price for books, the authors, publishers, and warehouse workers are all likely to receive a lot less for their work.) Also, when buying online, avoid choosing one- or two-day shipping unless it's actually necessary; overnight/airplane-based shipping has an enormous environmental footprint as well as a serious cost to worker safety and sanity.
Consider buying gift certificates from local, independent bookstores for your family or friends.
For online audio books, check out Libro.fm, which also helps support your local independent bookstore.
Do you have some favorite books or authors to recommend? Please mention them in the Comments.
Related posts: