These are a few notable books that have been published recently: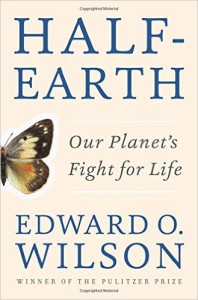 Half-Earth: Our Planet's Fight for Life, by Edward O. Wilson
Our Only World, by Wendell Berry
Tools for Grassroots Activists: Best Practices for Success in the Environmental Movement, by Nora Gallagher and Lisa Myers
How Did We Get Into This Mess?: Politics, Equality, Nature, by George Monbiot
The Hour of Land, by Terry Tempest Williams
The Big Pivot: Radically Practical Strategies for a Hotter, Scarcer, and More Open World, by Andrew Winston
Hope in the Dark: Untold Histories, Wild Possibilities, by Rebecca Solnit
(originally published in 2004; reissued in 2016 with a new foreword and afterword)
These are a few older books that are among my favorites:
Animal, Vegetable, Miracle: A Year of Food Life, by Barbara Kingsolver
Encounters with the Archdruid, by John McPhee
A Civil Action, by Jonathan Harr  (This story was also made into a major motion picture.)
And these are some environmental classics, which helped lay the foundation for the environmental movement and have inspired many environmental leaders and writers:
Silent Spring, by Rachel Carson
The Sea Around Us, by Rachel Carson
Small Is Beautiful: Economics As If People Mattered, by E.F. Schumacher
Sand County Almanac, by Aldo Leopold
Pilgrim at Tinker Creek, by Annie Dillard
Walden, by Henry David Thoreau
Desert Solitaire, by Edward Abbey
In addition to the authors already mentioned above, the following are some other key authors (in no particular order) who often write on topics related to sustainability and the natural environment. I recommend checking out their writings:
Elizabeth Kolbert, Bill McKibben, Bernie Krause, David Orr, Alan Weisman, David Suzuki, Sandra Steingraber, Janine Benyus, Gary Snyder, Amory Lovins, Frances Moore Lappe, Jane Goodall, Barry Lopez, Carl Safina, Mary Pipher, Robert D. Bullard, Joanna Macy, Wangari Maathai, Buckminster Fuller, Ray Anderson, Paul Hawken, William McDonough, David James Duncan, Rick Bass, and Andres Edwards.
Do you have a favorite eco-book or author to recommend?