[NOTE: See our updated, more current version of this post on the 2014 election.]
If you would like to be represented by more elected officials who support environmental safeguards for our air, water, and land, take a good look at the resources provided by the League of Conservation Voters (LCV). LCV "is a national non-profit organization that works to turn environmental values into national priorities. To secure the environmental future of our planet, LCV advocates for sound environmental policies" and works to "elect pro-environment candidates who will adopt and implement such policies."
One of LCV's flagship reports is its annual National Environmental Scorecard, which shows how each congressperson voted on every environmentally relevant piece of legislation. You can search the Scorecard by state, zip code, a congressperson's name, or by year. Or you can download a PDF of the entire Scorecard.  Congressman Paul Ryan earned a very low score of 3% in LCV's 2011 Scorecard, and just 13% the year before.
LCV endorses pro-environment candidates (or at least candidates who are far more green-leaning than their viable opponents) in Congressional, Gubernatorial, and Presidential races. See their list of current endorsements here . The Senate candidates whom they've endorsed for the upcoming election include: Tim Kaine (VA), Tammy Baldwin (WI), Jon Tester (MT), Richard Carmona (AZ), Martin Heinrich (NM), Elizabeth Warren (MA), and Chris Murphy (CT), among others. A few of the House candidates they've endorsed include: Tammy Duckworth (IL), Ami Bera (CA), Jared Huffman (CA), Dina Titus (NV), Raul Grijalva (AZ), and Ron Barber (AZ), among many others. LCV has also endorsed Barack Obama for President, and Jay Inslee for Governor of Washington. [A post-election update: Almost all of the endorsed pro-environment candidates won their races. LCV has created a webpage they call Environmental Facebook, with profiles of all of the newly elected, LCV-supported congresspeople.]
LCV also makes anti-endorsements. This year, LCV named five incumbent House candidates to a group they've dubbed the Flat Earth Five: five of the most staunchly anti-science, climate-change deniers (AKA denialists) in the House of Representatives. LCV is encouraging voters to vote against the Flat Earth Five, who are: Dan Lungren (CA); Dan Benishek (MI); Joe Walsh (IL); Ann Marie Buerkle (NY); and Francisco Canseco (TX).  LCV issues an annual Dirty Dozen list, as well, which includes the Flat Earth Five this year, as well as other candidates who consistently vote against clean energy and conservation. Among this year's Dirty Dozen are: George Allen (VA); Heather Wilson (NM); Dennis Rehberg (MT); Josh Mandel (OH); Linda McMahon (CT); and Mitt Romney.  Since 1996, 60 percent of candidates named to the annual "Dirty Dozen" lists have been defeated. [A post-election update: 11 out of the 12 of the "Dirty Dozen" and 4 out of the 5 of the "Flat Earth Five" were defeated.]
More than 30 states now have their own state-level LCVs, which hold state elected officials accountable on various environmental issues. Click on the map at that link to find the website for your state's LCV and learn about your state and local candidates.
LCV features several petitions and actions that people can participate in.  Some other ways to get involved with and support the League of Conservation Voters are to: join their Facebook page or follow their Twitter feed; share their videos; sign up to be on their mailing list; or donate to LCV or to specific pro-environment candidates.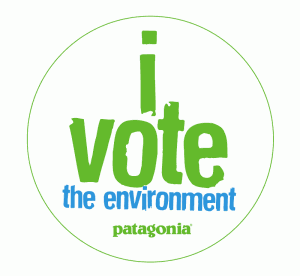 Patagonia (the company) also has a Vote the Environment project, which is affiliated with LCV, along with the band Wilco, the group HeadCount, and others.
[NOTE: See our updated, more current version of this post on the 2014 election.]
Other important info for the upcoming election:
Make sure you are able to vote:
Verify that you are still registered to vote: Go to CanIVote.org and click on your state and follow the links, or contact your county's elections office.  Thousands of voters have been purged from the voter rolls in several states. Make sure you aren't one of them.
Register to vote, or re-register to vote (if you've moved or changed your name or been wrongfully purged from the registration system): Pick up a voter registration form at a Post Office (or a library or government building) in your county; or go to RockTheVote.com, 866OurVote.org, or to your county's election office to register. Be sure to register before the deadline for your state. And if you think you might not be able to get to the polls on election day (the upcoming national election is Tuesday, November 6), fill out the absentee ballot form to receive a mail-in ballot before the deadline.
Get info on your polling location and hours, as well as voting requirements in your area (e.g., voter ID requirements), and report any voting problems: Go to Election Protection's 866OurVote.org website, or call 1-866-OUR-VOTE, email help@866ourvote.org, or download their free Smartphone app.
Find out whether your state's voting systems are reliable and publicly verifiable: Go to

VerifiedVoting.org

: working for election integrity/preparedness, i.e., reducing the odds of electronic and physical vote tampering, to try to ensure and verify that every vote is counted as cast.
And last but not least: please vote—not just for your own sake, but for the sake of your family, future generations, and the environment and atmosphere that we all share and depend on for life.  Thank you.