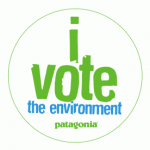 Vote as if the future depends on it. It does. Vote as if your life—or your child's life—depends on it. It does, in a general if not a direct way. The future state of our climate, environment, health, and civilization—not only in the United States but around the world—will be greatly affected by who is in charge or in a position to obstruct progress (nationally and locally) over these next few years and beyond. It is critical that all of us environmentally-conscious voters vote in every election, including primaries as well as mid-term (non-presidential) elections, such as the 2014 U.S. election in November. Every election is important. Remember: Apathy is surrender. Please—don't be (a)pathetic.
[Also see our newer, related post: 2016 Election and Voting Information]
The candidates and major parties are not "all the same" as each other, and it's naïve, dangerous, and self-defeating to believe or say that they are. If Republicans take majority control of both houses of Congress (the Senate, as well as the House), pro-environmental legislation won't stand a chance of being passed; and the Republicans have made it abundantly clear that they will actively try to dismantle existing environmental laws, regulations, and agencies—as they've tried to do many times via their House votes, though so far the Senate has been able to block most of their attempts because of the Democratic majority there. The health of the environment shouldn't be a partisan issue (and it didn't use to be, before the 1980s), but sadly, it is now.
If you live in the United States and you would like to be represented by more elected officials who support environmental safeguards for our air, water, and land, take a good look at the resources provided by the League of Conservation Voters. LCV "is a national non-profit organization that works to turn environmental values into national priorities. To secure the environmental future of our planet, LCV advocates for sound environmental policies" and works to "elect pro-environment candidates who will adopt and implement such policies."
LCV endorses pro-environment candidates (or at least candidates who are far more green-leaning than their viable opponents). See their list of current ENDORSEMENTS here. Senate candidates whom they've endorsed for the upcoming (2014) election include: Gary Peters (MI), Mark Udall (CO), Kay Hagan (NC), Cory Booker (NJ), Michelle Nunn (GA), Jeff Merkley (OR), Bruce Braley (IA), Rick Weiland (SD), Jeanne Shaheen (NH), Al Franken (MN), Jack Reed (RI), Dick Durbin (IL), and Dave Domina (NE). A few of the House candidates they've endorsed are: Brad Schneider (IL), Tammy Duckworth (IL), John Lewis (MT), Raul Grijalva (AZ); Michigan candidates Pam Byrnes, Jerry Cannon, and Dan Kildee; and California candidates Mike Honda, Julia Brownley, Scott Peters, John Garamendi, Ami Bera, Lois Capps, Pete Aguilar, and Raul Ruiz, among others. In the 2012 election, almost all of the LCV-endorsed candidates won their races; but keep in mind that that was a presidential election year, when far more voters (especially Democratic voters) usually show up to vote than they do for mid-term elections. [2014 post-election update: The majority of the candidates that LCV endorsed won their races: 11 out of 16 (69%) of the endorsed Senate candidates won their races, and to date it appears that 30 (57%) of the 53 endorsed House candidates have won, for a combined average of 59%. These endorsements were mostly given to candidates who were in very close races. Therefore, the results suggest that these pro-environmental endorsements, and/or these candidates' pro-environment campaign platforms and records, gave them an edge. Future candidates should take note.]
The Sierra Club also makes many endorsements. And a newer organization, Climate Hawks Vote, has endorsed: Gary Peters and Paul Clements in Michigan, Scott Peters (and several other House candidates) in California, Shenna Bellows in Maine, Tom Udall in New Mexico, Rick Weiland in South Dakota, Jeff Merkley in Oregon, and Jeanne Shaheen in New Hampshire. [2014 post-election update:  The majority of candidates endorsed by Climate Hawks Vote won their races: 11 out of the 17 endorsed candidates (65%) won. Only some of their endorsements overlapped with LCV's endorsements.]
State Governors races are also very important, although these national enviro groups haven't weighed in on them with endorsements. More than 30 states now have their own state-level LCVs, which hold Governors and other state elected officials accountable on various environmental issues. Click on the map at that link to find the website for your state's LCV and learn about your state and local candidates.
One of LCV's flagship reports is its annual National Environmental Scorecard, which shows how each congressperson voted on every environmentally relevant piece of legislation. You can search the Scorecard by state, zip code, a congressperson's name, or by year. Or you can download a PDF of the entire Scorecard.  LCV's website also features several petitions and actions that people can participate in.  Some other ways to get involved with and support the League of Conservation Voters are to: join their Facebook page or follow their Twitter feed; share their videos; sign up to be on their mailing list; or donate to LCV or to specific pro-environment candidates.
Other important links for the upcoming election:
Make sure you are able to vote:
Verify that you are still registered to vote: Go to CanIVote.org and click on your state and follow the links, or contact your county's elections office.  Thousands of voters have been purged from the voter rolls in several states. Make sure you aren't one of them.
Register to vote, or re-register to vote (if you've moved or changed your name or been wrongfully purged from the registration system): Pick up a voter registration form at a Post Office (or a library or government building) in your county; or go to RockTheVote.com, or 866OurVote.org, or to your county's election office to register. Be sure to register before the deadline for your state, which is often sometime during the month before the election. And if there's a chance you won't be able to get to the polls before they close on election day (the upcoming national election is Tuesday, November 4), fill out the absentee ballot form to receive a mail-in ballot before the specified deadline. Help get other people registered to vote by participating in voter registration drives or sending these registration links to people you know, especially to college students and other young (18+) voters who have never registered before.
Research the issues, propositions, and candidates that will be on your ballot. Don't base your decisions on campaigns' (often deceptive) TV and radio ads or the (often corporate-funded) propaganda flyers you receive in the mail. Read the information that's provided in your state/county's voter guide, as well as newspaper editorials and articles written by trustworthy, non-dogmatic analysts or journalists, and information provided by trusted organizations such as the League of Conservation Voters (National Environmental Scorecard, etc.). To get information on what will be on your ballot, and where candidates stand on specific issues, check out Vote411.org.
Get info on your polling location and hours, as well as voting requirements in your area (e.g., voter ID requirements), and report any voting problems: Go to Election Protection's 866OurVote.org website, or call 1-866-OUR-VOTE, or email help@866ourvote.org.

Find out whether your state's voting systems are reliable and publicly verifiable: Go to VerifiedVoting.org: working for election integrity/preparedness, i.e., reducing the odds of electronic and physical vote tampering, to try to ensure and verify that every vote is counted as cast.
And last but not least: please vote—not just for your own sake, but for the sake of your family, future generations, other species, and the environment, atmosphere, and climate that we all share and depend on for life.  Vote as if everyone's future depends on it; it does.  Thank you.