Generators are typically used to provide electricity during power outages (e.g., during storms, emergencies, and related disaster-relief operations) or in off-grid situations or areas where there is no access to a built-in power source (e.g., on construction sites, on camping trips, or at outdoor events—for concert stages, food booths, etc.). So, in a nutshell, they're mostly used for temporary, portable/mobile, back-up, or remote power needs.
Conventional generators have a number of downsides. They require gasoline (or diesel fuel), which can be expensive—especially during emergencies, when there can also be gas shortages. The stinky emissions from gas-powered generators also contribute to air pollution and climate change, and they can cause carbon monoxide poisoning when placed inside a home or building, or too close to doors, windows, or vents on the outside of a building. (In fact, several people who were using generators due to Hurricane Sandy died from carbon monoxide poisoning.) Furthermore, gas generators are very loud.
Solar generators provide a smart, silent, safe, and clean alternative that uses renewable energy (no fuel = no emissions), and there are a number of products available to choose from these days. (Biodiesel or hybrid generators are other options to consider.)
Below is a list of the U.S.-based solar generator brands that I've looked into so far; this is not a comprehensive listing.  If you know of other brands of solar generators and would recommend them, please let us know in the Comments. Thanks!
Small-Scale, Compact Units
These solar generators are designed to provide a modest amount of electricity for temporary, emergency, or low-use power needs. The smallest units can easily charge gadgets and power lights, but do not have the capacity to run large, power-hungry equipment or appliances (e.g., refrigerators or heaters) for more than a short time. (For example, a 1500-watt unit can generally only run a small space heater for up to 2 hours or so at night, when the unit is not being recharged by the sun.) The average price among these compact options is somewhere around $2,500 – $4,000, though you can find some that are less expensive (note: the cheapest products often use panels or components that are made in China). The prices could change significantly in coming months and years, as the cost of solar panels continues to go down, and battery and photovoltaic technologies are evolving rapidly.
SolPad (based in Northern California) [added in 2018]
SolMan (from Sol Solutions, based in Northern California)
Yeti (from Goal Zero, based in Utah) [added 3/15]
Ready2Go (from E.A.R.T.H., based in Hawaii and Southern California)
SUNRNR (A.K.A. Sun Runner, based in Virginia)
Larger Systems
Some of these are intended for use on construction job sites or public works projects. Most are mounted on trailers that can be towed. While many of these generators are meant for commercial/industrial uses, some could also potentially be used to power an entire off-grid homestead.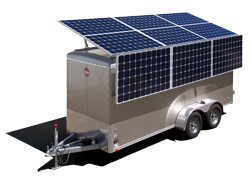 Ecos PowerCube (based in Florida)  [added 8/14]
Mobile Solar Power (based in Central California)
SolaRover (based in Colorado)
Some companies offer hybrid systems that allow for back-up generation using biodiesel, if solar power is not providing enough power for a user's needs.
Please chime in with additional info and recommendations based on your own experience or knowledge of solar or biodiesel generators!
Related post: Resilience: Disaster-Resistant, Adaptive, and Restorative Design and Planning [Feb. 2013]