Almost 2,000 businesses around the world have now gone through the B Impact Assessment and have become certified as B Corporations (by B Lab), as of late 2016. "The B Impact Assessment gives companies a score based on how they perform on metrics for impact on their communities, the environment, workers, and customers."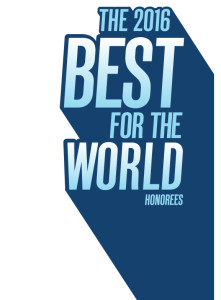 The annual Best for the World ratings "highlight the businesses that have scored in the top 10 percent of all Certified B Corporations on the assessment. Companies that have scored in the top percentiles across a majority of the assessment's categories, based on company size, are honored as Best for the World Overall, and companies that have scored in the top percentiles in a given category, again based on company size, are honored as Best for the Environment, Best for Community, Best for Workers and Best for Customers." This year, 515 companies have qualified for at least one of these Best for the World categories, and 140 companies are considered Best for the World Overall. Below we've listed a subset of those companies: companies that were deemed Best for the World Overall, and also qualified for one or two (of the four) specific "Best for" categories. (No companies have yet qualified for all of the "Best for" categories.)
The following are 20 companies that achieved the 2016 Overall "Best for the World" designation, as well as two specific category ratings, including the Best for the Environment category (and their second category would either be Best for Community, Best for Customers, or Best for Workers):
Eco2Librium (business consulting on energy and forestry enterprises)
Mobisol (solar energy for developing nations)
Revivn (electronic recycling for businesses)
Squiz (reusable food pouches; Switzerland)
Triciclos (recycling, waste management company; Brazil & Chile)
Wholly Hemp (skin care products)
X-Runner (dry-toilets/sanitation product & service for low-income households in Peru)
YouGreen (recycling and waste cooperative; Brazil)
These companies achieved the Best for the World Overall rating plus the Best for the Environment rating:
Accion Verde
Atayne
Comet Skateboards
Cuento de Luz
Dolphin Blue
Fazenda de Toca Organicos
Hawaiian Legacy Hardwoods
Jibu
Northeast Green Building Consulting
One Earth Designs
RainGrid
Revive  (Belgium)
Seeds Printing
Sistema Biobolsa
The Arnold Development Group
W.S. Badger Co.
And these companies achieved the Best for the World Overall rating plus two of the other sub-categories (but not the Best for the Environment category):
Abacus Wealth Partners
Abramar
Australian Ethical Investment
Beneficial State Bank
Bridges Ventures
Build With Prospect
Clean Yield Asset Management
Eudaimonia
Farmland
HCA
Imajine That
Juhudi Kilimo
Roshan
RSF Capital Management
Saber Es Poder
Trillium Asset Management
Click here to read stories about some of these B Corporations, as featured in B Magazine.
And click here to find other B Corps, including ones in your region. (You can search by location, name, industry, or keyword.) A few of the largest and most well-known B Corporations are: Patagonia, Ben & Jerry's, Etsy, Sungevity, Seventh Generation, the Honest Company, Method, and Natura.
Related posts: