Some people might call me a chocolate enthusiast…or, a chocoholic. I crave chocolate. And I usually indulge this craving, because after all, high-quality dark chocolate has been proven to have a slew of health (physical and mental/mood) benefits.
I have a little bit of chocolate almost every day. Not a lot on any given day, mind you…but since my cumulative consumption of chocolate is considerable, I've been very pleased to find that many of my favorite chocolate bars are made by companies that address the social and environmental issues related to the production of chocolate.
The following chocolates are a few of my favorites; and they are all made with organic ingredients and/or their cacao has been sourced through fair-trade arrangements. Some of them also support other types of sustainability or conservation programs and practices, which are noted below. I am not being paid to recommend any of these companies or products.
1. TCHO
Organic (certified by CCOF)
Fair trade (certified by Fair Trade USA)
Started the TCHOSource program "to obtain the best beans in the world while enabling the producers of those beans to earn a better living." They "partner with growers and coops and transfer knowledge about growing and fermentation to enable farmers to escape commodity production and become premium producers and to create a relationship of mutual self-interest that goes beyond Fair Trade."
They also "raise consciousness about the reality of modern slavery in our industry and in the world, and set an example by refusing to use cacao produced by slaves."
Manufactured in San Francisco
I recently tried TCHO's SeriousMilk Milk Chocolate "Cacao" bar (with 53% cacao), and I think this has now become my #1 favorite chocolate bar.  It's the perfect balance between milk and dark chocolate. I look forward to trying their other bars, as well.
2. Newman's Own Organics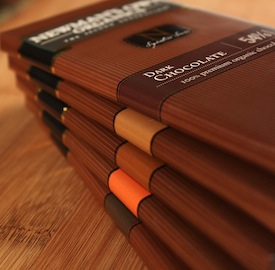 100% organic (certified by Oregon Tilth)
Rainforest Alliance Certified, which "guarantees that the cocoa in our Signature Series was grown on farms that meet comprehensive standards for sustainable farming, protecting soil, waterways and wildlife habitat as well as the rights and welfare of workers, their families and communities."
"We have confirmed in writing that the cocoa products we purchase have been produced on farms that treat their workers fairly, and pay them a fair wage. Our suppliers do not and will not support any farms or plantations that mistreat children and adults or engage in Slave Trade Practices."
My favorite Newman's Own Organics bar is: Dark Chocolate (54% cocoa), which is a light/creamy dark chocolate.
3. Endangered Species Chocolate
Some of their bars are organic (certified by Oregon Tilth)
"10% of net profits donated to charitable organizations supporting species and habitat conservation in harmony with humanity"
"100% ethically traded: Cacao used to create our All-Natural and Organic chocolate products is grown on farm co-ops that foster responsible labor practices, community enrichment and sustainable farming… On-the-ground endeavors, like Project Ecuador are helping empower communities in cacao growing regions."
"All of our chocolate is shade-grown.  Shade-grown chocolate supports lush forests and the species that thrive there promoting biodiversity, providing shelter for migratory birds, and combating global warming."
Information about an endangered species is provided inside each wrapper.
My favorite Endangered Species Chocolate bar (that I've tried so far) is: Dark chocolate with Cranberries and Almonds.
Organic (certified by QAI)
"Directly contributes 1% of its net sales to sustainable organic farming initiatives worldwide."
I've had their Milk Chocolate, and Milk Chocolate with Puffed Grains, and they were really tasty. I haven't tried their various dark chocolate products yet, though I plan to. (One point against this company's chocolates: I don't love that they put 3 small, individually wrapped bars inside of the larger package. Though the smaller serving sizes are good for portion control and for keeping the unopened chocolate fresh, using that extra wrapping material seems a bit wasteful.)
You can find many of these chocolates at most Whole Foods stores and other natural foods stores. There are a number of other companies that make organic chocolate and/or fair trade chocolate (e.g., ALTER ECO, Equal Exchange, Amy's, Theo, Angell, and Divine, to name just a few; commenters have also recommended Taza and Green & Black's). I haven't gotten around to trying all of them yet, but I surely will in the near future…
P.S. Fine chocolate makes a great last-minute gift for any chocolate lovers you know!
What's your favorite kind of organic or "ethical" chocolate?