Please check out some of the sites and organizations listed below. Follow, share, and support a few of them (and share this post with others). Check/verify your voter registration status before each election (and re-register if it needs to be corrected or updated), and encourage others to do so, too. And find a way to get involved (e.g., by registering new voters, volunteering for a campaign or a voting advocacy organization, or working at or monitoring the polls on election day; see the second half of the post, after the links listing, for more detailed suggestions). But even if you do nothing else, please VOTE. 
I'm not too proud to beg and plead. It's not an overstatement to say that our future and the collective future of humanity, our democracy, and our planet will be substantially determined by the outcome of the upcoming election. (Far too few voters showed up to vote during the last mid-term election and the last presidential election, with some disastrous results.)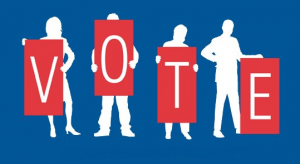 Vote in your state's primary, as well as in November's General Election. There are always important state and local issues on every ballot. Voting in the primary is also a great opportunity to do a "dry run" before the General election in November. It will give you a chance to verify that you are still properly registered, figure out where your polling place is, and make sure you have the required ID (if any), etc.
Voting / Election Information
(check your current voter registration status, register or re-register to vote; get ballot/election information, ID requirements, poll location, etc.)
You can contact your County's elections office or your State's Secretary of State office re. your registration or for voting rules and requirements. Or see:
Fact-checking resources (for info. on candidates' claims and statements):
Also see our NEW posts (2020):
State-by-State Voting Information for state-specific links; and
Make It Count: How to Protect Your Vote and Everyone Else's
Voting-Related Advocacy Groups
* The asterisked groups make endorsements of specific candidates.
Environmental:
General:
Consider volunteering for or donating to your favorite candidates (for state, local, or federal offices) or to some of the election/voting groups listed above, or to political/campaign groups* such as:
"Voting isn't a valentine. It's a chess move." – Rebecca Solnit
[As I interpret this quote, it basically means that your vote should be strategic and rational. You don't have to love or be thrilled about the preferred, viable candidate or think s/he's perfect or will agree with you on every single thing; almost no person will. And even if you feel that you're choosing the "lesser of two evils" in a given race, that is always the more responsible thing to do than to allow the worst of two evils to win… Better is good. Better is always better than worse.]
It's important to recognize that voter suppression laws (including many restrictive ID laws and fewer voter protections, enabled by the Supreme Court's evisceration of the Voting Rights Act), voter intimidation efforts, voter roll purges in some states, voter database hacking (Russia is known to have "scanned" all states' voter rolls in 2016, and database breaches were detected in many states!), and other such forces will continue to have a negative impact on our elections, so we need to do everything possible to counteract and outweigh all of these attempts to curtail people's right to vote.  I feel an extra responsibility to vote, since so many people who should be able to vote will not be able to (some only because they're seniors or students who haven't been able to go get the required form of ID in time, or formerly incarcerated people who have done their time but are still disenfranchised).
Here are very specific ways you can help—10 steps you can take between now and election day—to try to ensure a high turnout and the best possible election outcomes:
1. Verify that you are still registered to vote (at your correct, current address): Go to 866OurVote.org or Vote411.org or RockTheVote.com and click on your state and follow the links, or contact your county's elections office (or Secretary of State's office) directly. Tens of thousands of voters may have been (wrongly) purged from the voter rolls in several states. (States that have done extremely aggressive purges include: Georgia, Texas, Colorado, Indiana, Illinois, Nevada, Nebraska, Kansas, Ohio, North Carolina, Florida, Virginia, Arizona, Alabama, Arkansas, Maine, and New York.) Make sure you aren't one of the voters whose name has been purged, ideally at least a month before you arrive at the polls on Election Day, before your state's voter registration deadline has passed. Also send / post these links for your friends, and ask them to check and re-check their registration status before the election (especially if they didn't vote in the last one). If you've moved since you last registered or you are not yet registered to vote, register or re-register right away, before your state's deadline (only some states currently allow election-day registration or are instituting automatic voter registration).  You can pick up a voter registration form at a Post Office (or a library or other government building) located in your county; or go to RockTheVote.com or 866OurVote.org, or better yet, go directly to your county's elections office to register in person.
The upcoming general election is on Tuesday, November 6 (2018).  If there's any chance that you won't be able to get to your polling place before it closes on election day, fill out the absentee/mail-in ballot request form to receive a mail-in ballot before the specified deadline. When you receive your ballot, be sure to follow the instructions and fill it out carefully; sign it where specified and drop it off at a designated location (best option) or mail it in plenty of time (ideally well before Election Day) and be sure to put enough postage on your mail-in ballot when you send it in; in some cases, more than one regular stamp is required.
2. Sign up to help with voter registration drives, if the voter registration deadline hasn't already passed in your state (see the link above or look it up at your Secretary of State elections website), or help with a campaign's Get Out the Vote efforts. You can help register voters or GOTV through your local Democratic Party office and local candidates' offices, among other groups (see the links listing above). If you're able to go to a "battleground" county or state near yours, that's great. NextGen Rising has a great web tool that makes it easy to text progressive millennials. Also, encourage students and young voters that you know (who will be 18+ by election day) to register to vote and to show up to vote. (Assist them in filling out their registration form completely; send them links to voting/ballot information, and make sure they see the state and county voting guides that explain what's on their ballot.)
You can also help people figure out how to get the ID that they (might) need in order to vote in your state (see item #9 below), or drive them to the DMV to apply for their ID. In addition, though it may be too late at this point (to qualify for this election), encourage and help anyone you know who has been wanting/trying to become a citizen to complete the naturalization process; you could even offer to help contribute to their steep citizenship exam fee.
3. Sign up to be a poll worker at a polling place, through your County's elections office (find information at WorkElections.com), or volunteer as an election observer or poll watcher/monitor, through groups like Common Cause, the League of Women Voters, your local or state Democratic Party, or various civil rights groups. Here is a helpful summary of what you need to do to be a poll worker or a poll watcher in each state. Alternatively, you could volunteer to help staff the Election Protection hotline to answer voting-related questions and to record and respond to reports of voting problems. (Lawyers and law students are especially wanted, but anyone can help.)
4. Find out whether your state and county's voting systems are reliable and publicly verifiable (i.e., have a paper trail that can be audited for accountability); most state and counties do use auditable systems with a paper trial, but some still don't. For example, Georgia's touchscreen voting systems do not currently employ best practices. Go to VerifiedVoting.org, which works for election integrity/preparedness, to learn more. While voter fraud (e.g., voter impersonation) is extremely rare and is not easy to get away with (so it not a cause for real concern), incidents of vote hacking (and voter registration hacking) could potentially occur in some states, counties, or precincts. See this detailed list of Tips to Protect Your Vote and Voter Registration from Glitches and Hacking. Also see the tips sheet at the bottom of this post for a partial list, which can be easily printed for or distributed to others.
Contact your Secretary of State's office and your County's elections office to request that they take all precautions to prevent ballot hacking and tampering, and to provide secure and verifiable voting systems with an auditable paper trail.  Specifically, if you are in one of the states or counties that uses electronic voting machines, ask if you can use a paper ballot instead. And every voter should make sure they get their ballot receipt after voting, and keep it until the election has been certified and they've verified their vote was counted.
5. Research all of the issues, propositions, and national, state, and local candidates that will be on your ballot, so that you are as informed as possible. Don't base your decisions on campaigns' (often deceptive) TV and radio ads or the (often special-interest-funded) propaganda flyers you receive in the mail. Read the information that's provided in your state and county's official voter guides (which you should receive in the mail), as well as newspaper editorials and articles written by trustworthy, non-dogmatic analysts or journalists, and information provided by trusted organizations such as your state's League of Conservation Voters, League of Women Voters, etc. Given the prevalence of lying and mis-information (especially online and on social media), it's important to check the veracity of any wild claims or personal attacks/smears: search the fact-checks on Politifact, FactCheck.org, and Snopes. To get additional information on what is on your ballot, and where candidates stand on specific issues, check out Vote411.org, as well as Vote.org, VoteSmart.org, and Ballotpedia.org. In California, Illinois, and New York, Voter's Edge provides a helpful, non-partisan voting guide to help you make sense of what's on your ballot.
Educate yourself as much as possible. But if you still do not really know about or understand what a particular ballot proposition is about when it comes time to vote, it's best not to vote on that issue.

6. Donate to or volunteer for candidates and issue campaigns that you support, at local, state, and national levels, and/or to your local (county or state) Democratic Party, the DSCC, DCCC, DLCC, and Democratic Governors Association.  Also consider donating to or volunteering for an election integrity or voting-related group, such as Election Protection, ACLU, Common Cause, the League of Women Voters, MoveOn, 350Action, or others (see the links in the first half of this post).
7. Make your voting preferences known to your friends and family, via conversations or posts on social media, without resorting to inflammatory insults (no one will listen to you if you're suggesting that they're an idiot or worse). You probably have more influence than you think, especially among your peers and others who respect you. I know it takes some courage; when you stick your neck out on political matters, a few people might want to chop it off and might lash out in a rude or offensive manner. But if you set a civil and positive tone (and only post truthful, substantiated information) and mostly focus on reaching out to people who you know personally, you'll get fewer reactionary or vitriolic responses. Avoid telling people who they "must" or "have to" vote for (no one likes to be be told what to do). Simply state what you will do and why, and why you think it's important. Post links to helpful and trustworthy election information, such as links for finding polling location, hours, etc. (e.g., 866OurVote.org, or your Secretary of State or County elections website).  Consider sharing this blog post (and our other election posts) with your friends. And on or before voting day, remind your friends to vote. 
8. Volunteer to drive people to the polls (including seniors, young people, and others who might n0t have cars), through direct offers or via your local Democratic Party, local campaign offices, or other groups.
9. Make sure you know what the current ID requirements are for voting in your state, and bring the necessary identification document(s) with you. Many states have instituted more restrictive (discriminatory) ID requirements since the last election or since 2010: including AK, AL, AZ, FL, IA, IL, IN, KS, MO, MS, NC, ND, NE, NH, OH, RI, SC, TN, TX, VA, WI, and WV. Go to 866OurVote.org or VoteRiders.org, call 866-OUR-VOTE, or contact your State or County's elections offices to find out about your state's current voter ID requirements. SpreadTheVote.org can help people get the ID they need; let others know, if they might not have a current photo ID.
10. And of course, on Election Day (or ideally on an Early Voting day, if those are available where you are, or by mail-in ballot): PLEASE VOTE. Also remind your friends to vote, and bring at least one friend or family member with you.


If you experience or witness any voting problems or irregularities, report them to the Election Protection hotline (1-866-OUR-VOTE, or 1-888-VE-Y-VOTA) and to your County elections office and your Secretary of State; you could also report the problems to the DNC, your state's party, campaign headquarters, and/or to local media.  If a poll worker tells you that your voter registration isn't active or is incorrect in some way, please contact the 866-OUR-VOTE (866-687-8683) hotline before you give up and leave. Some states are wrongly purging some voters from the voter rolls, or your registration could have been hacked. (Notify Verified Voting if you have reason to believe your registration was hacked/altered.)
Also, make sure you get and keep your ballot receipt, and keep it for at least a couple weeks after the election, until the election is settled and certified. Once all ballots have been counted, you should be able to confirm that your ballot was counted, by calling your County elections office or, in some places, you can check this online.
Again, if you've opted to get a mail-in/absentee ballot, be sure to follow the instructions and fill it out very carefully; sign it where specified and drop it off at a designated location (best option) or mail it in plenty of time (ideally well before Election Day) and be sure to put enough postage on your mail-in ballot when you send it in; in some cases, more than one regular stamp is required. Keep your ballot receipt.
Vote not just for your own sake, but for the sake of your family, future generations, vulnerable populations, humanity, other species, and the environment, atmosphere, and climate that we all share and depend on for life. Vote as if everyone's future depends on it; it does.
Related posts: