High-Impact Climate Actions and Choices that Make the Biggest Difference
If you're not already aware of how dire the climate crisis is becoming (and how much worse it will get if our civilization continues on with "business as usual"), consider this past year's news of extreme heatwaves, droughts, and massive fires across the Arctic, the Amazon, Australia, California, Africa, and elsewhere; and the increasingly catastrophic storms, hurricanes, and floods that have been happening throughout the world. Also take a look at the graph below of global carbon dioxide levels over time, and seek out more information on climate change from reputable sources (see the links list at the very bottom for several media outlets and non-profits), including articles like these: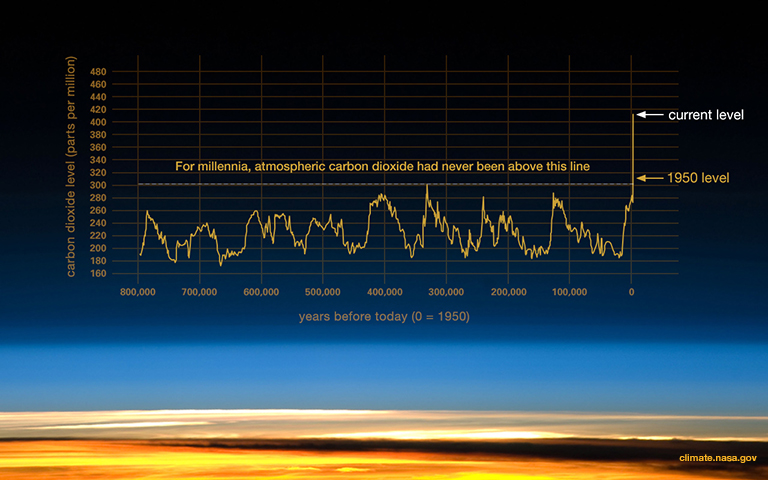 What humanity chooses to do (or not do) in the next year or two—and over this decade—to lower greenhouse gas (carbon) emissions will determine how catastrophic things will get in the future and how quickly. The only way we will be able to slow and lessen the climate crisis enough to keep our world habitable and hospitable to life is to make big, bold, powerful, and effective changes rapidly and at scale. While smaller problems also matter and small, incremental changes and solutions are worthwhile and can really add up when many people take them on, it is crucial that we understand and focus on the biggest problems (i.e., planetary-wide crises) we all face, like climate change, and understand which choices, behaviors, actions, and policies have the greatest impact on accelerating vs. slowing climate change. Being aware and informed about which types of human activities are contributing the most to worsening climate destabilization empowers us to make the changes that will generate the most significant results. We're not actually helpless, even though we may sometimes feel that way. Knowledge is power, and what we don't know or understand could very well kill us (along with most of the rest of life on earth).
Several studies have been done recently that help identify the practices (at the societal level and at the individual/household level) that contribute to (or mitigate) climate change the most. Something that's notable about the findings of these studies is that many climate solutions don't cost much if any money, and many can even save quite a bit of money (whereas climate inaction is already costing all of us a LOT, and the cost of inaction is much higher than the cost of taking significant actions would be. See "Climate change's giant impact on the economy," New York Times.) In fact, many climate solutions simply involve making the decision NOT to do something (e.g., not cutting down trees, not wasting food, not eating much meat, not having many kids, not flying often, etc.) rather than actively doing something or having to pay for something.
I.

"Project Drawdown is a world-class research organization that reviews, analyses, and identifies the most viable global climate solutions, and shares these findings with the world."  They organize their solutions into the following categories: a) Electricity Generation, b) Food, c) Women and Girls, d) Buildings and Cities, e) Land Use, f) Transport, and g) Materials.
Most of these solutions require some systemic, societal, institutional (e.g., government policy and industry-driven) changes, but it's important to recognize that all of us as individuals and as communities can support and promote these types of broad-based changes, through our votes, policy advocacy, education and awareness building, and our own behaviors, habits, and lifestyle choices (which can not only reduce emissions, but also serve as role modeling and as examples and inspiration for others, helping to change the culture and shift consumer demand).
The Top 15 Highest-Impact Solutions identified by Project Drawdown are as follows (click each of the links below for descriptions, details, and cost/savings analyses). Many people are not yet aware that some of these strategies are so important:
Refrigerant Management (leak prevention and proper, careful disposal of HFCs in refrigerators and air conditioners; phase-out of HFC chemicals and and replacement with safer, climate-friendly alternatives)
Wind Turbines [onshore]
Tropical Forests (preventing deforestation, and doing restoration and reforestation)
Solar Farms (utility-scale solar power plants)
Silvopasture (integrating trees and pastures into a single system for raising livestock)
Rooftop Solar (distributed, small-scale solar PV systems <1MW)
Regenerative Agriculture (practices that enhance and sustain the health of the soil by restoring its carbon content, thereby sequestering carbon; e.g., organic production, cover crops, compost, crop rotation, no-till or reduced tillage, etc.)
Temperate Forests (protection/preservation and restoration)
Peatlands (protection/preservation, fire prevention, and restoration of bogs, which store a lot of carbon)
Tropical Staple Trees (planting perennial crop trees)
Afforestation (growing new forests on land that is not currently forested, especially degraded agricultural, pasture, or mining land; preferably a diversity of native and adapted tree species rather than mono-cropped plantations)
Policy-makers, industry/business and institution leaders, foundations and philanthropists, nonprofit organizations, and all of us as citizens should take these findings into account when deciding which climate strategies we should prioritize and amplify, and the types of projects and programs on which we should focus most of our time, energy, and money.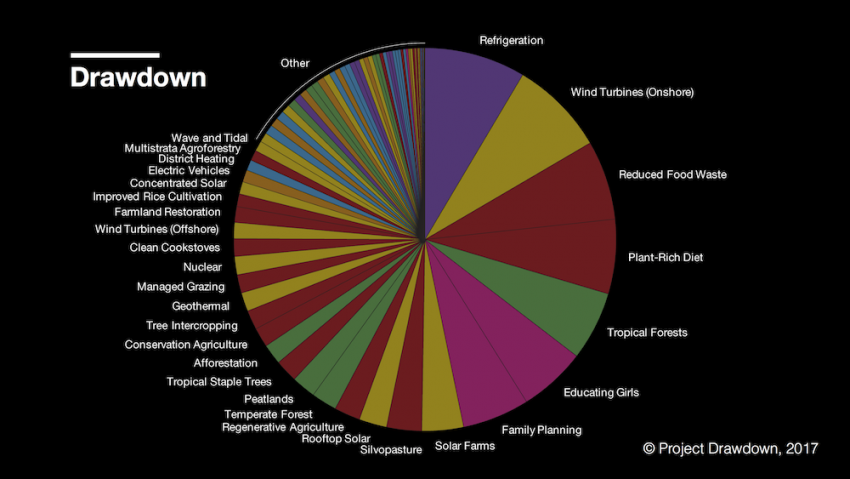 I recommend taking this short, interactive, online quiz on CNN's website: "The most effective ways to curb climate change might surprise you." The quiz is based on Project Drawdown's findings, and it indicates which changes can be made by individuals/households, by industries, and/or by policymakers. (Note: Many of the changes can be made or influenced by more than one of those.)
Project Drawdown published its research conclusions in a book: Drawdown: The most comprehensive plan ever proposed to reverse global warming, edited by Paul Hawken.
NOTE: See an updated version of Drawdown's research findings in our newer post (from June 2023): Project Drawdown's Top 15 Most Effective Climate Solutions.
II.
In addition to Project Drawdown's useful findings and recommendations, another recent scientific study (from 2017, by Seth Wynes and Kimberly Nicholas) has identified some of the highest-impact personal choices and actions each of us can make/take to reduce our own contribution to climate change:
"Climate Mitigation: Most Effective Individual Actions"
Their data showed that the following are the highest-impact decisions and actions; sadly, they also found that education and government recommendations (in the US, EU, Canada and Australia) have been failing to focus on most of these (and instead they often mention and prioritize lower-impact actions). We should all aim to achieve at least two or three of these, and ideally all of them:
Having a small family rather than a large one (i.e., having few or no kids). This decision makes a bigger impact than any other we can make as individuals, by orders of magnitude beyond the others. Researchers have found that each additional person (in a developed country) ends up contributing an average of 58.6 tons of CO2-equivalent (tCO2e) emissions to our atmosphere per year. [Note: The carbon footprint of U.S. households is about 5 times greater than the global average, as we Americans consume so much more than people in most other countries. (Source)]
Going car-free (or at least driving as little as possible, and ideally switching to an electric vehicle or a very-low-emissions, high-MPG hybrid vehicle)
Avoiding airplane travel (or flying as little as possible).  [From a New York Times article: "In 2016, two climatologists published a paper in the prestigious journal Science showing a direct relationship between carbon emissions and the melting of Arctic sea ice." They found that one passenger's share of emissions on a 2,500-mile flight melts the equivalent of 32 square feet of Arctic summer sea ice. And cruise ships are even worse; "even the most efficient cruise ships emit 3 to 4 times more carbon dioxide per passenger-mile than a jet," along with other serious air and water pollutants. And container/cargo ships use even filthier fuels.]
Buying/using green, clean energy (e.g., via your utility if they offer this, or by installing solar or wind). [A note from me: FIRST always use conservation and efficiency to minimize any over-use/waste of energy! One of the best ways to do this is to avoid living in a home that is too big for the size and needs of your family. It's wasteful to have to heat or cool—and furnish—rooms or spaces that you don't really use.]
Eating a plant-based diet (or reducing your meat consumption)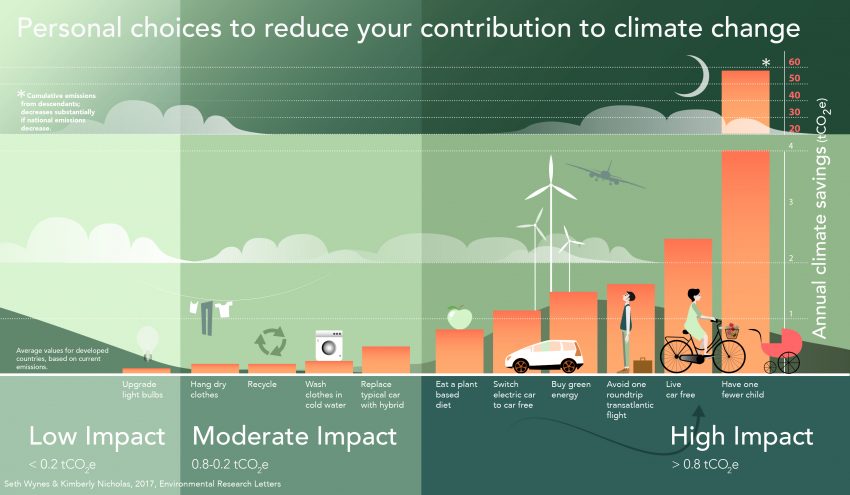 For more information on this study, see this article/analysis, as well as this concise Grist post and its infographic (shown above), which provides a good visual sense of the relative difference in impacts from each of the choices or actions/inactions. To learn about additional personal actions and decisions that can make a difference, beyond the five identified by the study above, check out the book Cooler Smarter: Practical Steps for Low-Carbon Living, Expert Advice from the Union of Concerned Scientists (Island Press, 2012).
For some of us, the five choices above don't seem like big sacrifices to make, and in fact many can drastically improve our own lives (as well as everyone else's). But in our highly individualistic and materialistic culture, many of us are taught that we can (and should) do whatever we want (any costs and harms to our community or society or public health be damned). We are too often conditioned to believe that we are inherently entitled to do anything we want (and buy anything that we can afford), and we are not often encouraged to think about whether or not we should do (or buy) those things. Americans, in particular, often tend to feel entitled to get as large and gas-guzzling a vehicle as we want, and many of us tend to drive and fly as often and as much as we want, and buy as much as we can, acting almost as if this is somehow our inherent, God-given right. Please question the assumptions, expectations, pressures, and social conditioning that you/we have been brought up with. These beliefs are not universal "human nature;" they are culturally taught. Consider the benefits of self-restraint and self-regulation. Think about the concept of "enough." Think about: "Live simply so that others may simply live." Consider your neighbors; consider vulnerable populations; consider other species; consider future generations. Consider and be considerate of the common good.
Lastly, always remember (and remind others) that almost any choice or change that you make or that society makes to reduce our greenhouse gas emissions will not only help stabilize the climate; it will also reduce air pollution (as well as water pollution and ocean warming) and thus improve and protect public health and well-being in other very direct and often immediate ways.
Related posts:
Related resources:
See our Twitter list of Climate groups, scientists, and leaders
These are some organizations focused on the climate crisis and climate solutions:
And these are a few media / news and information sources that provide fact-based information on climate change: