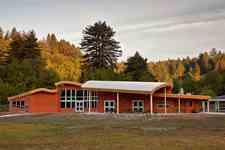 The recently certified Salmon Creek Falls Environmental Center is the first LEED Platinum certified K-12 public school in California, and it is also the first building in Sonoma County to achieve LEED Platinum certification. (The first commercial/non-residential building, that is. I believe that a private residence in Healdsburg was actually the first project to achieve LEED Platinum in Sonoma County.) To the best of my knowledge, the Salmon Creek Falls Environmental Center is the first Platinum rated non-residential building in the entire North Bay region of the Bay Area (Sonoma, Napa, and Marin counties). The Center is located on the site of the Harmony Union Schools (Harmony Elementary and Salmon Creek Middle School) in Occidental, CA, a town in the redwoods to the west of Santa Rosa. The building serves the school district as well as the surrounding community. It includes an auditorium, cafeteria and kitchen, and meeting rooms; and it has many green features, including a vegetated, flower-covered "living roof."
Here is my listing of all North Bay building projects that have achieved LEED certification to date. And here's a longer listing of green building projects (of all sorts, not only LEED projects) that I'm aware of in the North Bay.
And a quick update on the stats for LEED Platinum projects worldwide: According to my latest calculations (as of December 2009), 46 states and 12 countries (including the U.S.) now have at least one LEED Platinum certified building. China and Great Britain are the latest countries to join the ranks of those with a LEED Platinum rated project. Within the United States, California—with more than 50 Platinum certified projects so far—is home to more Platinum projects than any other state.