This is an addendum to the previous post for those of you who live in (or near) Marin or Sonoma County, California.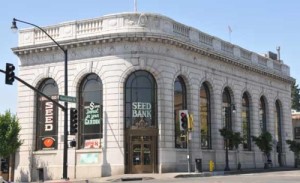 We are fortunate to have a plethora of amazing farms and sustainable agriculture resources in this area. One very cool new addition to our local scene is the "Seed Bank" store, located in a historic bank building at a major intersection in downtown Petaluma (Washington and Petaluma Blvd.). The store sells more than 1,200 varieties of non-GMO Baker Creek Heirloom Seeds.
Our area is also home to many farmers markets, as well as wonderful organizations (and businesses) such as:
Marin Organic :: MALT (Marin Agricultural Land Trust) :: Grown in Marin :: Petaluma Bounty :: Sonoma County Farm Trails :: Occidental Arts and Ecology Center :: Ag Innovations Network :: Harmony Farm Supply & Nursery ::  Mostly Natives Nursery :: Permaculture Skills Center [NEW: Added 2014] :: F.E.E.D. Sonoma Farmers Exchange [NEW]
You might also want to check out the Hidden Bounty of Marin, a recently produced 1/2-hour film about the farms and farmers of beautiful West Marin; it shows the rich variety of agricultural enterprises in this region—from dairy, produce, and oyster farming to cattle, hog, and sheep ranching.
There are many great family farms in this area. Wild Blue Farm, Toluma Farms (goat dairy), and Straus Family Creamery are some of my favorites, as they're the farms that I'm most familiar with.
And lastly, here's my list of links to other sustainability-related resources in the North Bay region of the San Francisco Bay Area. If you have other favorite local organizations or resources to recommend, please share them in the Comments section below. Thanks!