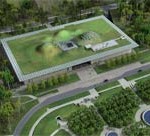 The new California Academy of Sciences museum in San Francisco's Golden Gate Park recently opened its doors to the public. The building achieved the Platinum (top-tier) rating in the LEED (Leadership in Energy and Environmental Design) green building rating system. Designed by Renzo Piano, Stantec Architecture, and Arup, the 410,000-square-foot building is the largest public Platinum-rated project in the world (to date). Featuring a four-story rainforest exhibit, an aquarium, a planetarium, and an enormous (and hilly) "living roof" (AKA a vegetated or green roof) that visitors can access, the museum is proving to be wildly popular. If you go there soon, be prepared for crowds.
For details about the building's sustainable design features, go to:
www.calacademy.org/academy/building/sustainable_design
If you'd like to know where other LEED Platinum buildings are throughout the country or the world, click here: LEED Platinum Certified Buildings Worldwide. I also developed an interactive Google map of green buildings in San Francisco, and I keep updated lists of green building projects in the San Francisco Bay Area and all LEED certified projects in Northern California.