Several certification programs have emerged to rate the sustainability of mixed-use, neighborhood and community-scale developments—addressing a wider range of issues than previous rating systems for individual buildings have addressed. These broader-scale certification programs include: LEED for Neighborhood Development, and the Living Building Challenge (Update: There is now also a Living Community Challenge program). The programs' requirements can be used as planning and design guidelines for any project, even if official third-party certification is not the goal. There is also a non-certification framework called One Planet Communities.
1. LEED for Neighborhood Development (LEED ND): LEED ND was developed as a collaboration between the U.S. Green Building Council, the Congress for the New Urbanism, and the Natural Resources Defense Council. LEED ND integrates the principles of smart growth, urbanism, and green building into neighborhood design. It aims to promote walkable, livable communities that reduce urban sprawl, decrease automobile dependence, provide housing close to jobs and services, and benefit environmental and public health. LEED ND credits are organized into the following categories: Smart Location and Linkage; Neighborhood Pattern and Design; Green Infrastructure and Buildings; Innovation and Design Process; and Regional issues.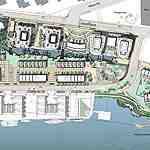 LEED ND can be applied to developments of all sizes, and it can be applied to new developments or redevelopment projects. The first official, post-pilot version of the rating system was released at the end of 2009. A project can be recognized at any or all of the following stages, depending on where it is in the development process:
Stage 1: Conditional approval of a LEED-ND plan, prior to entitlement. (This can help projects get support from the local government and community.)
Stage 2: Pre-certification of a LEED-ND plan for fully-entitled projects. (This can help projects secure financing, expedited permitting, or tenants.)
Stage 3: Certification of a project once construction has been completed.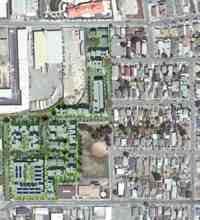 LEED ND pilot developments that have been constructed include: Solea Condominiums in Washington DC (Stage 3 Gold certified); Eliot Tower in Portland, OR (Stage 3 Silver certified); Excelsior and Grand in St. Louis Park, MN (Stage 3 Certified); Whistler Crossing in Riverdale (Chicago area), IL (Stage 3 Certified); and Celadon in Charlotte, NC (Stage 3 Certified). And a couple of notable LEED ND pilot projects that are well underway are: Dockside Green in Victoria, British Columbia (Stage 2 Platinum certified plan), and Tassafaronga Village in Oakland, CA (Stage 2 Gold certified plan).
2. Living Building Challenge: Like One Planet Communities, this is an international program that has developed deep-green standards that go beyond LEED requirements. This certification system can be applied to projects of any scale: from an individual building to a neighborhood or community design project. (Update: A Living Community Challenge program has now been created, as well.)
3. One Planet Communities: This is an international program that is part of the One Planet Living program developed by BioRegional, a UK-based environmental organization. The One Planet Living program is based on 10 principles in the following categories: zero carbon, zero waste, sustainable transport, local and sustainable materials, local and sustainable food, sustainable water, natural habitats and wildlife, culture and heritage, equity and fair trade, and health and happiness.  The first North American project to be endorsed by One Planet Communities is the 200-acre Sonoma Mountain Village in Rohnert Park, California. Sonoma Mountain Village is also registered as a LEED ND project. [Newer post, July '15: One Planet Communities: Greener Villages and Developments]
In addition to these programs, many organizations are working to advance the sustainability of neighborhoods and communities in a variety of ways. Two active organizations that are focused primarily on planning, design, and development include: Partnership for Sustainable Communities (for whom I recently did some research and writing) and Urban Re:Vision. A number of local, grassroots initiatives for community sustainability, resiliency, and energy independence—such as Transition initiatives—are also gaining steam around the country and the world. Update (added 4/21/10): For a searchable database of "ecovillages" around the U.S. and the world, see the Global Ecovillage Network website.
Click here to download a more comprehensive listing of organizations and websites focused on sustainable communities (4-page, 80 KB PDF file – updated June 2010). The listing includes national, California-based, and San Francisco Bay Area resources.
For other good info on sustainable communities, smart growth, and green neighborhood design and development, check out Kaid Benfield's NRDC blog.
In a later post, I'll be covering larger-scale, municipal-level sustainable planning initiatives for entire cities and regions. Stay tuned.
Related Post: LEED ND Developments in the U.S., Canada, and China [August 2010]
NEW Post: One Planet Communities: Greener Villages and Developments [July 2015]

February 22, 2010
3 comments