Reducing your water use has multiple benefits. In addition to helping to conserve and protect your community's vital water supplies, saving water also helps you save money and energy.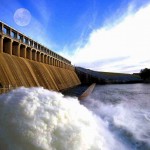 According to the U.S. EPA, if all U.S. households installed water-efficient fixtures and appliances, the country would save more than 3 trillion gallons of water and more than $18 billion dollars per year.
Conserving water also conserves energy, because energy is used to treat, deliver, and heat water. If one out of every 100 American homes were retrofitted with water-efficient fixtures, that would save about 100 million kWh of electricity per year—avoiding 80,000 tons of greenhouse gas emissions: equivalent to removing nearly 15,000 automobiles from the road for one year. For additional information on the benefits of saving water, see this EPA webpage.
Low-flow fixtures have been on the market for a while. These days, there are also many ultra-low-flow fixtures that conserve even more water without compromising performance. The EPA's WaterSense program labels ultra-low-flow, highly water-efficient plumbing fixtures that have been independently tested and certified to meet efficiency and performance standards. In addition to being approximately 20% more water-efficient than average products, WaterSense labeled products have been verified to perform "as well or better than their less efficient counterparts."
To select the most water-efficient plumbing fixtures, you should look for products with certain flow thresholds. The following sections outline the thresholds to be aware of when selecting ultra-low water-use toilets, showerheads, and faucets:
HIGH-EFFICIENCY, WATER-SAVING TOILETS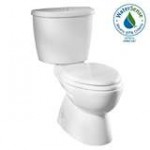 Toilets are often the source of the most water use (and water wasting) within a home, accounting for nearly 30 percent of an average home's indoor water consumption. If you have a toilet(s) that uses more than 1.6 gallons of water per flush (gpf)—as do almost all toilets installed before 1994—replace it with one of the following:
If you have a 1.6 gpf (post-1994) toilet, you can make it more water-efficient by putting a small water bottle (filled with water, with the cap on) into the toilet tank for displacement. (It's not a good idea to put a brick in the tank, as it will erode and the sediment can clog up the works.) Soon, these fake "bricks" should be available.
In California, new legislation has mandated that all new toilets sold or installed in the state after 2014 must be high-efficiency toilets. At some point, federal standards might also be raised to this standard.
For commercial/office-building bathrooms, install ultra-low-flush (ULF) urinals in lieu of regular urinals.

August 25, 2010
5 comments