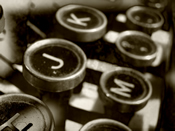 In addition to writing posts for this blog (The Green Spotlight), I write articles and blog posts for MotherEarthNews.com and other publications, and I do writing and editing work for clients. I almost never mention my other work activities here on my blog, but it occurred to me that some readers might like to know a little about my other writings and my professional background.

I have been a published writer for more than two decades. I was a writer, reporter, and producer for public radio's Living on Earth program for several years. More recently, I was a contributing author for the book Blueprint for Greening Affordable Housing (2nd edition, edited by Global Green USA, published by Island Press). I wrote the chapter on Green Operations and Maintenance, as well as one of the case studies featured in the book.
I've written numerous articles and commentaries on green building and other environmental topics. My articles have been published by more than a dozen media outlets (e.g., magazines, newspapers, public radio, and online media), including:
San Francisco Chronicle
Natural Home magazine
Environmental Design + Construction magazine
Urban Land's GreenTech magazine
Living on Earth radio program
GreenBuildingAdvisor.com
GreenHomeGuide.com
KQED.org, and
Environmental News Network (ENN.com)
I've also written and/or edited guides, manuals, newsletters, reports, website content, marketing materials, case studies, and other types of publications on behalf of companies, non-profit organizations, and government agencies. My clients have included: New Leaf Community Markets, the David Brower Center, Global Green USA, Environmental Defense Fund, Partnership for Sustainable Communities, Enterprise Community Partners, Simon & Associates Green Building Consultants, the National Building Museum, the U.S. Green Building Council's Northern California Chapter, EduTracks, ICLEI, Industrial Economics, Lehrer Design, Compendia, the City and County of San Francisco's Department of the Environment, Schenectady Municipal Housing Authority, Ecobanca, and the Resource Renewal Institute.
Here's a small selection of some of my writing work in recent years:
Case studies on a few of the campus projects and programs that received the 2010 and 2012 University of California/CSU/CCC Best Practices Award: UC Santa Cruz Campus' Water Efficiency and Water Management Improvements; UC Irvine's Medical Education Building; and CSU Sacramento's American River Courtyard residence hall. Written on behalf of the UC Berkeley Green Building Research Center / Lehrer Design, 2011-2012
Green Operations & Maintenance Manual for the Schenectady Municipal Housing Authority, along with a Healthy Home Guide for SMHA residents, December 2011
"Chemical cleaners can introduce poisons, health risks into the home," San Francisco Chronicle, September 22, 2007
And the following are a few of my stories that were broadcast on public radio's Living on Earth:
I invite you to visit my PUBLICATIONS page for a more comprehensive list of writings and broadcast pieces that I've written, edited, or produced.
For information about the editorial services that I offer, please visit my Writing and Editing page, and feel free to contact me with any questions.
-Miriam