I recently added the latest set of Platinum rated projects to my listing of LEED Platinum certified building projects worldwide. The listing is organized by countries and states, and some of the projects are linked to in-depth case studies. As of this month (October 2009), I know of LEED Platinum certified projects in 44 U.S. states plus Puerto Rico, as well as projects in 9 other countries: Australia, Brazil, Canada, Germany, India, Saudi Arabia, South Korea, Sri Lanka, and the United Arab Emirates. There are all types of Platinum projects: commercial, residential, institutional…new construction as well as renovation.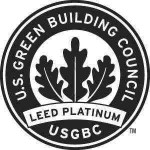 Platinum is the highest rating in the LEED green building rating systems. Building projects that have attained this rigorous level of certification are among the greenest in the world.
I update the listing every month or two. If you know of a project that has officially achieved LEED Platinum certification but is not yet included in the listing, please let me know.